TheeBook "Pulls the Plug"
MUDCAT FALLS — Despite the explosion in popularity of Facebook and Twitter, a local company, Piffle Inc., announced it has been forced to close down its innovative social media site, TheeBook.
"It is an extremely competitive market," said Amos Stoltzfus, Piffle CEO. "We thought we had definitely found a niche segment that was very much being under served, but we couldn't make a go of it. Oh well."
One in four (25%) U.S. internet page views occurred at Facebook in December 2009, up 83% from 13.8% in December 2008. Twitter is as of December processing more than one billion tweets per month. January passed 1.2 billion, averaging almost 40 million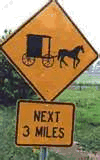 tweets per day.
TheeBook, with it's plain, black and white graphics and monospaced typeface, targeted the Amish, who are known as the "Plain People" because they shun bright colors. The web site for and about the "Plain People", which had no JavaScript, brightly colored icons or anything else that would give these pages a gaudy appearance which is the norm on the world wide web, never saw enough traffic to allow the development of any meaningful revenue-generating products.
"Seriously, a web site for the Amish?" asked local blogosphere guru Maurice Ronald Tapper. "Didn't these bozos realize that the Amish do not even plug their houses into the power grid?"
In a related development, Calabash County District Attorney Jack Meddlemeister announced an investigation into allegations of fraud by Piffle, Inc., related to $35 million in funding raised from venture capital companies, which remains unaccounted for by the company.
Numerous telephone calls to Lappland in extreme southwest Calabash County to solicit the Amish perspective on the failure of TheeBook and the impact on their community went unreturned.